Community Meeting with OPD Captain Anna Colón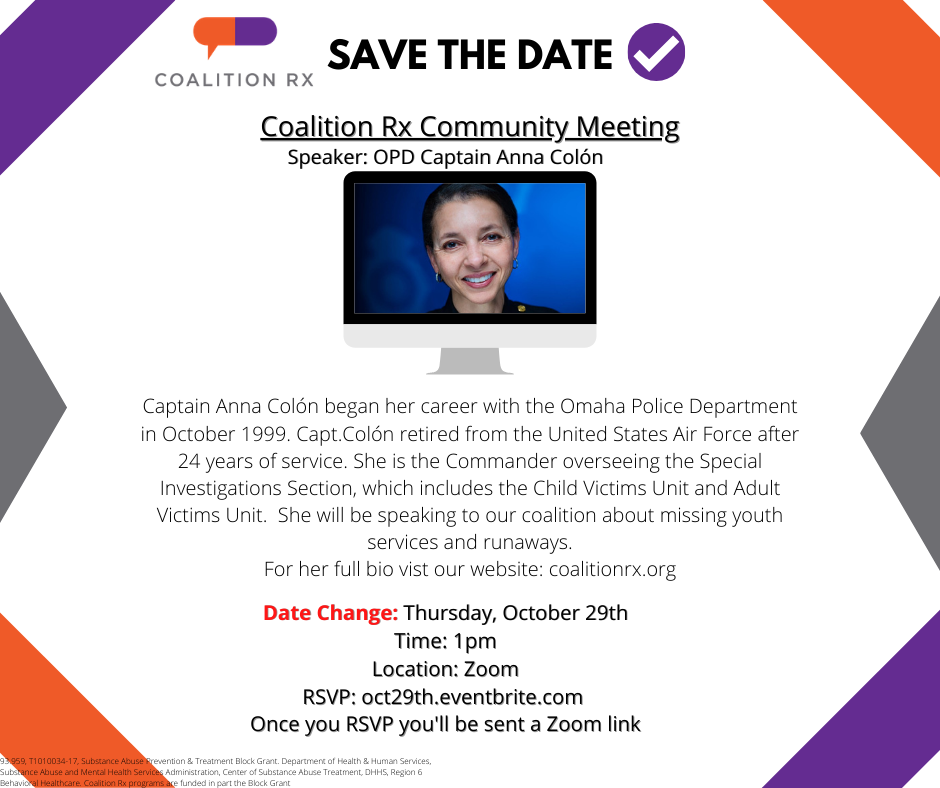 Captain Anna Colón Bio:
Captain Anna Colón began her career with the Omaha Police Department in October 1999. She was promoted to Sergeant in 2007, the rank of Lieutenant in 2015, and Captain's rank in 2018.
Captain Colón has a Bachelor's degree in Human Resources, a Master's degree in Management, and an MBA degree in Management.
Anna has served in the various precincts while in Uniform Patrol, and the Homicide and Gang Unit as both a detective and Sergeant. She also worked in Internal Affairs. As a Lieutenant, she served as the shift commander for the Northwest Precinct on both the afternoon and the night shift, and as the Administrative Assistant to the Criminal Investigations Bureau Deputy Chief. She is currently the Commander overseeing the Special Investigations Section, which includes the Child Victims Unit (Child Sexual Assault, Child Abuse, and Missing Persons Squads) and Adult Victims Unit (Domestic Violence and Adult Sexual Assault squads).
Anna is the secretary of the Omaha Fraternal Order of Police (FOP), Lodge #1, overseeing over 750 active members, making it the second-largest lodge in the state of Nebraska. She is the secretary of the State FOP Lodge, leading over 3500 active members statewide. Anna is the secretary of the Nebraska Chapter of the Black Police Officers Association and the Nebraska Chapter of the National Organization for Black Law Enforcement Executives (NOBLE). She is a member of the following law enforcement organizations: FBI-LEEDA (Law Enforcement Executive Development Association), the International Association of Chiefs of Police, and the Omaha Chapter of the Latino Peace Officers Association. Despite the COVID restrictions, she is also very active in her church, Salem Baptist, with their military and music ministry.
A native of Ohio, Anna retired from the United States Air Force after 24 years of service. During her tenure in the Air Force, she was stationed at several overseas bases and has completed multiple humanitarian missions, both stateside and overseas. Anna was deployed to Balad Air Base, Iraq, supporting Operation Iraqi Freedom, where she was assigned to the notorious 'tent hospital,' treating wounded soldiers in the field.
Anna's husband, Pablo, is also retired from the Air Force, and they have been married for nine years.